Since there is about no use in having a website that lacks interactivity – you always want some feedback on your action received. It is considered weird nowadays once you have completed an order in whatever E-commerce store not to receive the Thank you email, for example. But it may not be that easy to make the website sending emails, especially if you haven't done it several or hundreds of times before.
How do I make my WordPress site sending email notifications?
Do you want to be informed when a form submission had been performed on your site? Do you want to tell thank you for a client for making a purchase in your Woocommerce store? You just need emails to be sent from your WordPress site then to the emails listed! And here is that this plugin can help you. Check the absolutely free of charge SX Easy SMTP WordPress plugin https://wordpress.org/plugins/sx-easy-going-smtp/
The setup is quite easy – simply follow the instructions and you will be able to make your emails running through. Be aware, if you are facing any troubles (however it was tested up to the most recent WordPress version, things may happen) – create an appropriate ticket, or ping me directly. We are always happy to help you with the plugin itself and with web-development activities as well.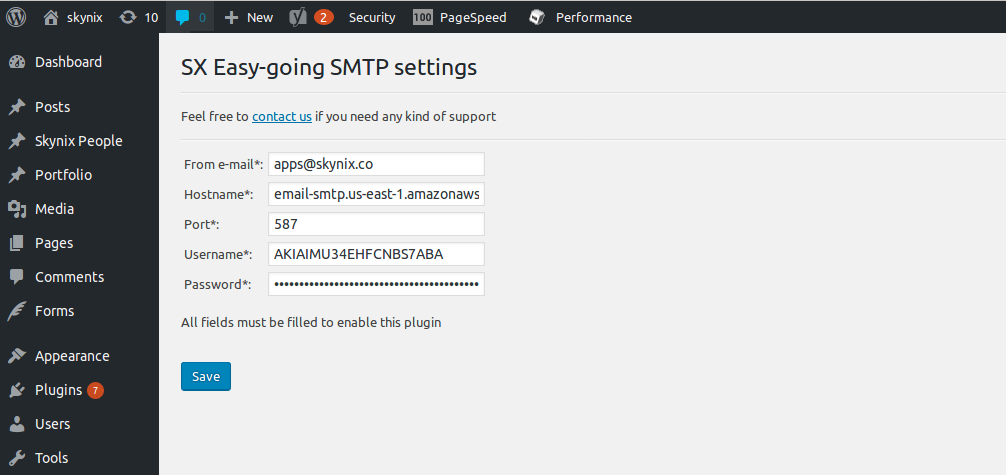 Why using SX Easy-going SMTP mailing plugin rather than the others?
A list of benefits is here:
it's free of charge
it works!
it is not that complicated to setup
you have the support available once contacting the plugin provider
100 downloads already, and more to follow
Yes, one more thing – leave a feedback if you like it, I appreciate it a lot.
Any other questions? Ping me at: [email protected]