Intention: Development of modern, fast, secure, high-performed RTL theme from scratch
Technologies used: Magento 2, PayPal, checkout.com and other custom integrations and modules
People Involved: 2 developers
Timeframe: 3 months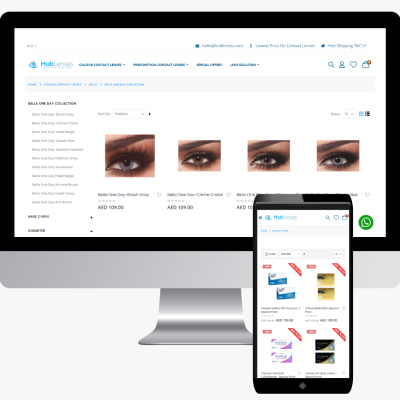 History of Hub Lenses Arabic store way
Skynix has coded Hub Lenses store from scratch in 2018 on early versions of Magento, specifically for the United Arab Emirates. Their business was growing fast, and later they decided to cover more Arabic countries. They requested, and Skynix implemented a multisite architecture with a dedicated Arabic theme with RTL support.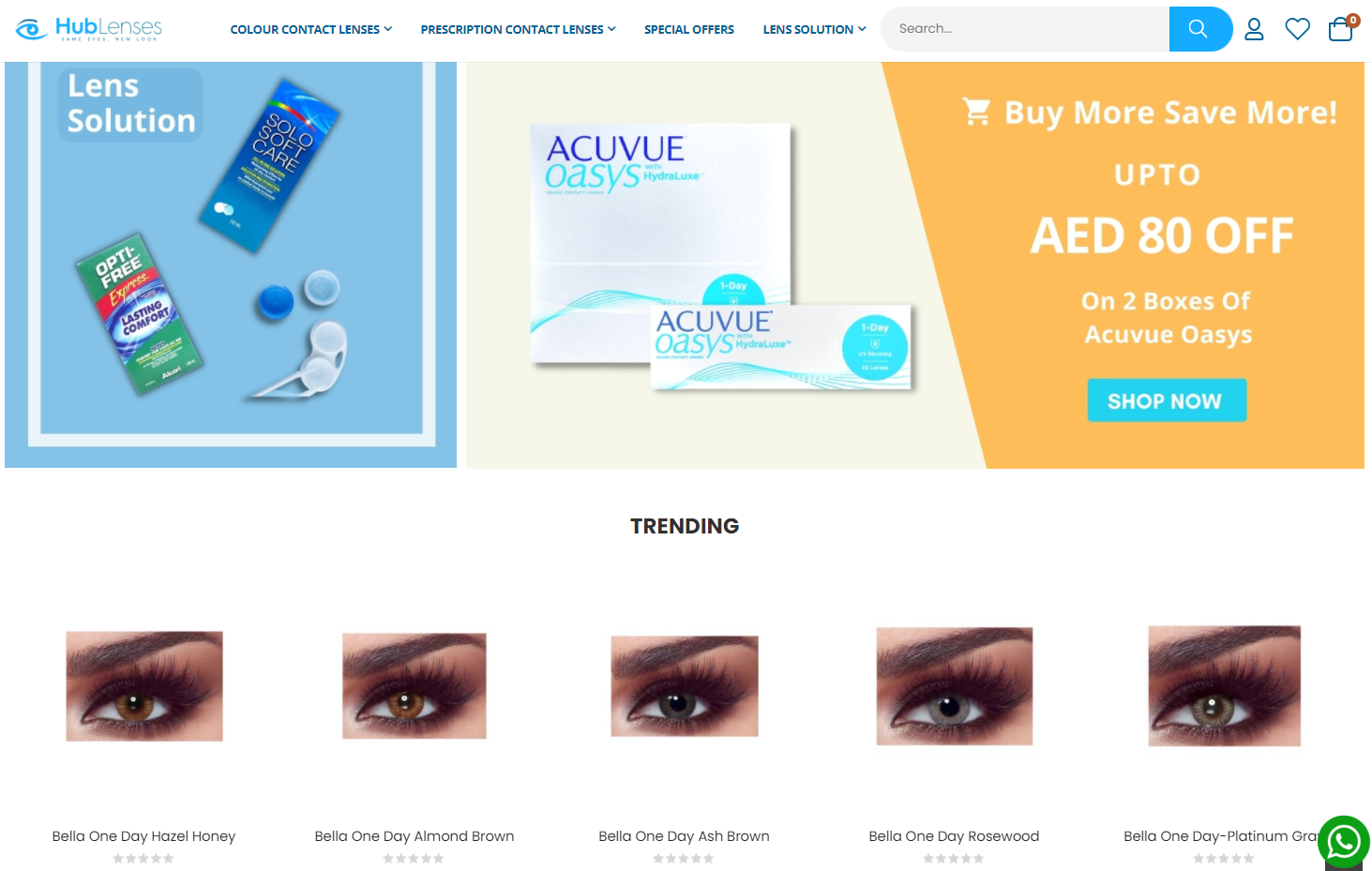 The right Magento 2 stack was initially chosen for an ambitious e-commerce project. It was easy to start, support, and develop complex requirements.
Since the first release of the Hub Lenses e-commerce store, it was easily upgraded between major Magento versions.
Skynix was working on presenting new features like multistore of Magento to our potential customers.
At the same time, the Hub Lenses team experienced a lack of market in the Arabic world.
Hub Lenses team became the first client of Skynix in implementing multisite architecture with RTL support.
Having passed a difficult way through the new architecture, the Skynix team managed to get all the requirements implemented like a breeze.
Hub Lenses ecommerce store became a full-featured multisite with RTL support and their team's reliable companion, remarkably transforming their operations, skyrocketing their ROI, and allowing them to keep growing for years to come.
Custom multisite Magento solution to meet all business needs
Skynix team has solid experience with multistore and multisite solutions for Arabic countries. We had delivered several stores with multi-languages and multi-currencies, yet this exact case had the unique RTL requirement. Core features of Hub Lenses We designed a distributed AWS-based System Architecture with database replications, load balancer, dockerized containers, cheap spot servers, health, and security monitoring. RTL multisite was built from scratch using Magento 2 theme.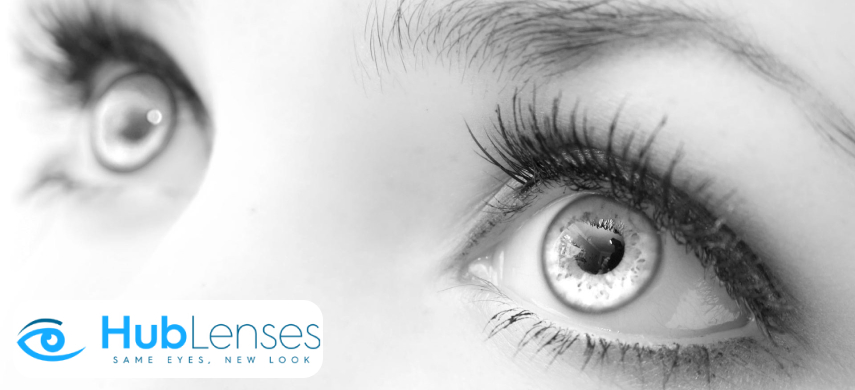 Core features of the Magento 2 RTL Multisite:
This solution was designed for a distributed AWS-based architecture with database replications, load balancer, dockers, elastic containers service, health and security monitoring.
A fully automated Continuous Integration architecture was implemented to automate builds, tests, deployments on staging servers and releases based on Bamboo.
The software was a built-from-scratch Magento 2 RTL theme. Magento 2 based API delivers a high level of complexity with the capacity to be customized as needed to fit the most sophisticated client's needs. Javascript Framework provides the best user flow.
results
Results of 3 months agile development
Implementation and integration of those third-party services, Skynix managed to become cost-effective, significantly reduce development expenses and timelines. Timely launched, upgraded, and modern Magento 2 RTL multisite was rapidly growing. During the first five months after launch, the business has multiplied the number of joined clients. Hub Lenses became the number one store in the United Arab Emirates and left its competitors far behind. Everyone who wants to review an example of our code is welcome to visit our repository https://github.com/skynixukraine/Hub-Lenses-Magento-Store-Example
Firstly, Hub Lenses was rapidly growing with major Magento 2 versions
They got an improved User Interface with many features available out of the box.
The provided solution is enriched by RESTful and Graphql APIs needed for coding Progressive UI.
The migration gave a significant economy with security enhancements.
Secondly, the client got Modern Web Application
The benefits of the Modern applications: conversion rate growth, reduction in application weight, reduced resources cost even with an increased number of users, offline mode, and much more.
We delivered the modern application using best practices in coding the Magento 2 blank theme, which made development costs much lower as it did not require rare, specific resources.
It helps to speed up the growth process x1.5 times, involves new clients, and expands business abroad.